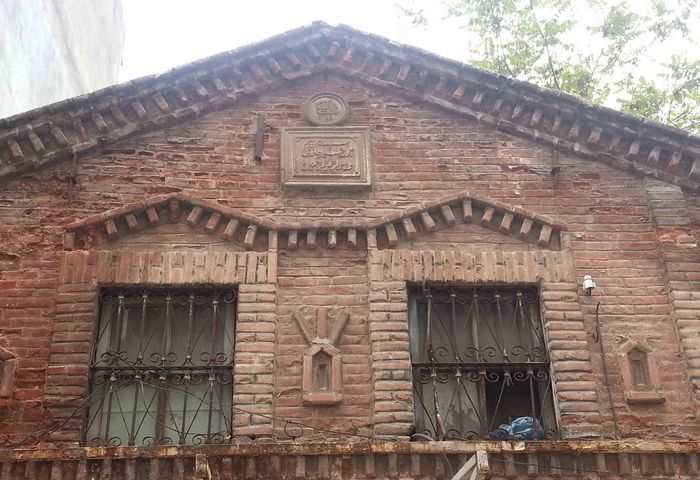 The bricks from the Ottoman era
The bricks from the Ottoman era are seen on the walls of the gallery set up by Evren Ertur. The general view of the gallery is seen. Evren Ertur collected the bricks of the old demolished olive oil factory owned by his grandfather and constructed the same by keeping the original design. In this building very quiet and humble, the technological story of the olive oil is told since the old centuries when the oil had been obtained by pressing the olives… While contemplating the original pieces, each of them with an antiquity value, you witness the story of the olive oil since the old centuries…
During the visit of the gallery, you witness which processes the story started in the stone trough has gone through from the days when the oil had been obtained by pressing the olives, which instruments had been used. Bags made of goat hair, millstone turned manually or by the animal, bags made of skin to keep the oil, screws… Then the steam power and then the current continue system… You see all of them… Here is a living source for the students, youths and those who want to improve their knowledge, a classroom for practice rather than a gallery… Evren Ertur's family is involved in the olive cultivation since 5 generations and the Success Firman of Muderris Hilmi Efendi, the grandfather of Evren Ertur who had been the "soap maker of the sultan " and the bronze soap moulds are exhibited too in the gallery. Ertur states that he could't consent to see that all these instruments used in the oil production would be lost and he felt obliged to issue a cultural legacy to the next generations; we are sure that the museum-gallery where the instruments collected since 7 years by Ertur are exhibited and assisted by the Akqay Tourism Information Director Sakir Karadede will enlarge in the coming years. Contact:
Various instruments exhibited in the gallery. Like in the original, two out of the holes on the fagade of the building symbolise the olive leaf and the one in the middle symbolizes the olive grain.
"Until I die…"
This tree is a real passion for Evren Ertur dealing with the olive cultivation and olive tree since 39 years. He says that he swore not to quit the olive tree and the oil which is a passion for him until he dies; Ertur tells also romantic and historical stories about the olive:
This article is published for EnmarBg. For more interesting information about visit places Bulgaria, please visit www.enmarbg.com .